Objective
Bulk Update Products via CSV / TSV
Applies To
Jumper

Bulk updating products
While updating various fields of the product one by one can be time consuming, we've made the Bulk update feature for you to optimize time and resources to get updated fast and easy!
Use this feature to update inventory, prices, description etc of your products in a single shot.
When updating the inventory, remember that Jumper will OVERWRITE the existing inventory available on Jumper.

Note: The Bulk update feature is available on custom plans and added to your account only upon request.


Procedure
1. If this feature has been enabled for your account, you should see the following option in Store → Product.

Click on Export products to CSV button, to get the .CSV file with all the existing products and their attributes, a file with all the data will be downloaded.
Once downloaded to your local drive, begin making the required updates.

Notes :
A. Make sure you don't make any edits to the column names and product hashtags in the exported file. Also don't delete or change the order of any row.
B. If you need to delete a product please delete the product directly from the Manage products page on the dashboard.


2. Once you are done updating your Product export file, go ahead and click on the Add/Import button on the Manage Products page. Now select the Bulk Update option from the drop down.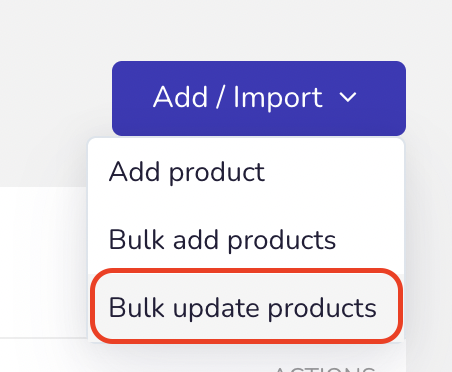 Note: Since each Product export file is unique as per the account setup, we will not dive into the names, formatting requirements and examples for each column in this guide. Refer to Products bulk upload guide for assistance.

3. You will now be redirected to the Bulk Update page. Click on the folder icon to upload your updated .CSV file.