Reading Your Video API Invoice
For other Communication API invoices, see Reading Your Communication API Invoice.
Introduction
This provides you with information on how to navigate your Video API invoice and check what you have been invoiced for, and your product information and company details are up to date.
It is important that all information on your invoice is accurate to prevent any rebilling and to ensure the best possible customer service. Should you have any enquiries with your invoice, please submit a request where a member of the API billing team will be happy to assist you.
How to Access
You will be emailed invoices on a monthly basis. As a video customer, you will receive the invoice according to the date you signed up as a trial customer with Vonage. For example, if you signed up on January 15th, your billing cycle will start on February 15th, and you will be charged on March 15th and every 15th of the month afterward.
Your invoices will be sent to the email address you provided. You can have multiple email addresses added to your invoice distribution. To add additional contacts, or for any assistance, please submit a request to us and we'll be glad to help.
Key parts of your invoice
Please watch this brief video helping explain your Video API Invoice:
Vonage Entity & Address - The Vonage entity operates as the legal entity who has produced the invoice and also helps assist you when setting up our entity as the correct supplier in your systems. This may vary depending on the geographic location of your business

Vonage Email Address - this is the email address for any queries you may have with your invoice. Please contact this address if you need any assistance and a member of the Billing team will be happy to help you.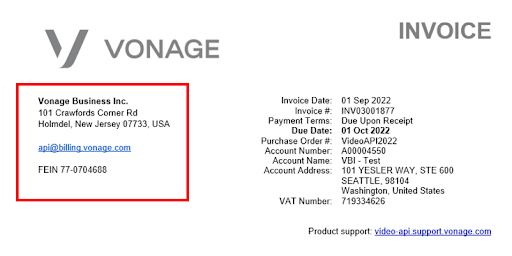 Invoice Date - This is the date the invoice was produced

Invoice Number - This is your unique bill ID, to ensure the customer's payment is correctly allocated and can be located at the top right of the customer's invoice.

Payment Terms - The number of days after the invoice was produced that you have to pay the invoice. This will have been agreed at the point of sale and can also be located in your contract. For example, if your payment terms are 30 days, you would have 30 days after the invoice date to pay the invoice before it becomes overdue.

Due Date - The date which the invoice is due for payment. This is linked to your payment terms.

Purchase Order - If required, this can be provided directly by yourselves and can be updated to your account via the Vonage portal. This in turn will then be populated on your invoices to help you pay your bills.

Account Name - Your business name provided on the contract, which is the company Vonage is billing to.

Account Address - this is your billing address where the invoice is being billed to.

Account Number - this is your unique account number assigned to yourself in order to easily identify and search for your Vonage account.

VAT Number - this is your company's registered VAT number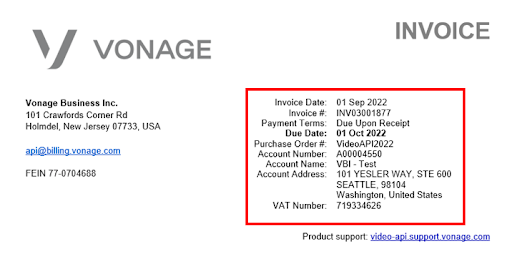 Table - A breakdown of your invoice, showing the following items:

Product name - the name of the service you are being invoiced for

Service Period - the billing period. This can be in advance or in arrears, depending on the type of product.

Quantity of Usage - depending on the type of product, this can vary if you are using a usage based service and so will affect the overall total.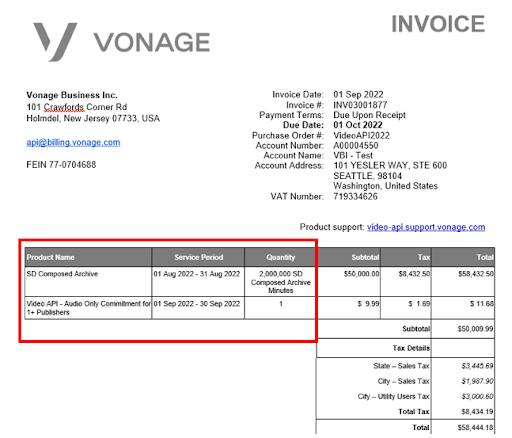 Subtotal - This is the invoice amount, prior to the addition of any valid tax.

Tax - this is the total tax amount you are liable for

Total - This is the total billable amount, including tax.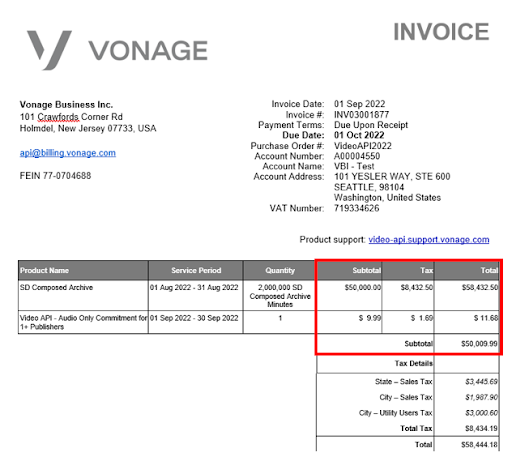 Tax Details:
Your invoice will provide a breakdown of any tax your business is liable to pay. This varies depending on the location of your business.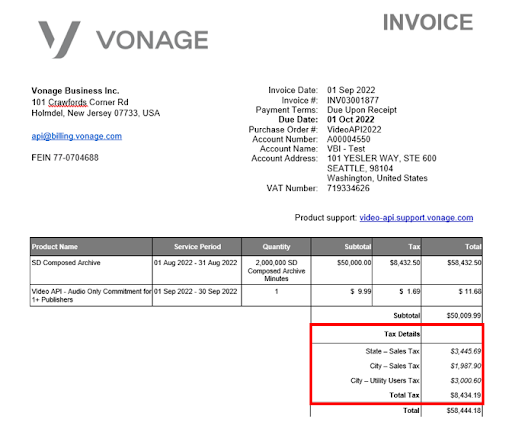 Credits and Total Balance Due
Reverse Charge - These are any credit adjustments which are made after the invoice has been issued. These are approved between you and Vonage.

Balance Due - This is your total balance including any billable tax. If any pricing adjustments are made after your invoice has been issued (such as agreed credits), the balance will be updated to reflect this: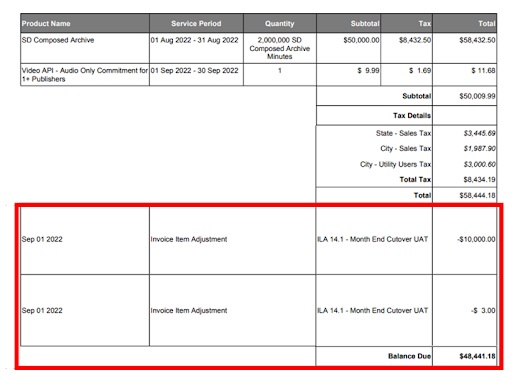 Bank Account Details - These are the Vonage bank details you would pay your invoice to. Applicable only to Wire and ACH payments.

Payment Instructions - This is information on how to pay your Vonage invoice: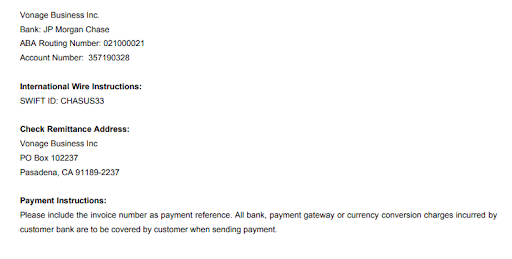 Frequently asked questions
How do I check my Video API usage?
Log in to your Vonage

Video API Dashboard

.

In the Account Overview section you can see an overview of your used minutes.



To

download

your

usage report

for a specific date range go to the

Projects section.

Choose the Project

for which you want to download the usage report.

Select date range, location and endpoints.

Click the Download Usage Data button located below the Usage by Connecting Endpoints section.
Related Pages