Creating Virtual Sets & Bundles
Objective
Creating Sets


Applies To
What is a Set?
Sets (Bundles) are several individual goods or services that are sold to consumers as one combined package.

Sometimes called "package deals," sets are generally made up of complementary items or, less frequently, similar items.

When retailers offer multiples of the exact same item, this is generally referred to as a "multipack," not a product bundle.
Examples of product bundles would be a fixed-price meal at a restaurant or a beach kit that includes sunscreen, sand toys, flip flops and towels as one saleable item.

Some retailers only sell certain inventory items as part of a set rather than offering them as either individual or bundled items.
For retailers who sell the same items both individually and as part of a product bundle, the bundle tends to cost less than if a customer were to purchase those items individually.
Making the savings explicit is one way to entice the user to purchase the set, though they might have intended to only purchase a single item during checkout.

Sets can be especially popular with customers who appreciate the bundled discount. They also appeal to customers who value speed or simplicity over the ability to tailor their product options.
This in case of online retailers are perfect for several reasons:
Bundling can effectively increase average order value, by selling more without incurring higher transaction costs.

Bundling makes it harder for customers to price-comparison shop and bounce to the site with the absolute lowest price point.

Bundling can encourage cross-selling if the product bundle includes items from new categories
Now, let's get you started by creating your first Set for your customers!
Procedure
1. To start adding sets, go to Store > Set in the menu.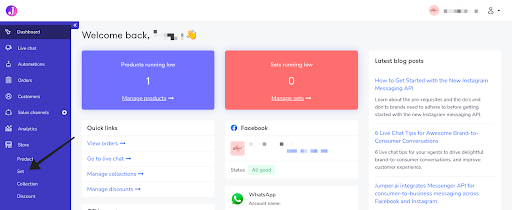 2. Now click on 'Add new set'.

3. Now let's start by giving your Set a Name, for example "Beach Kit", now create a checkout trigger, basically the hashtag identifier for this Set, for example "beachkit2022".
You can add a short description that will give your customer a quick glance on this particular Set on sale or you can skip this step.
Make sure you have an amazing image for this, a picture speaks louder!, click on the upload image option to select the image for the set.

4. Now let's add products to the set, click on 'Click here' option.

5. You will find a popup where you can select the products which you wish to add for the set, simply search for the products that you wish to add and click on 'Add' button. Once you have added the products close the popup.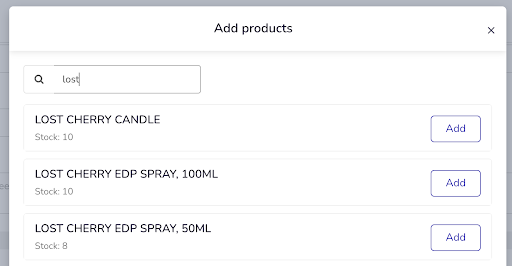 6. Now you will find all added products listed here, specify the quantity you wish to include for each product within the set. To add more products simply click on '+Add products' option.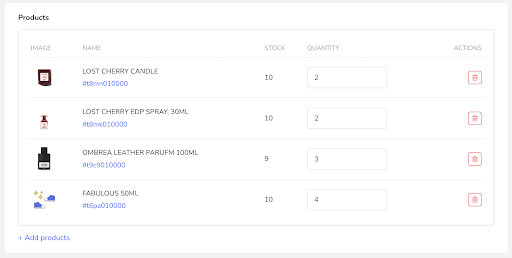 7. Now toggle options on/off for store visibility and click & collect for the current set.

Note: Make sure you have added collect location in Setting > Store locations before enabling click & collect. Know more about store locations here.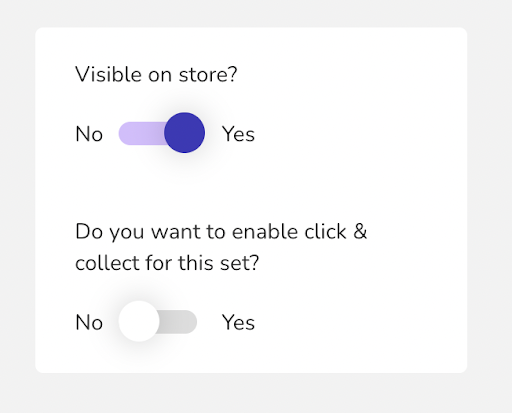 8. Now you will find options for adding Stock, SKU, quantity, etc.

Stock: This will be auto-filled for you, so this field will be disabled. (It is auto calculated based on your added products to the set. In case your added products are low on stock, the stock for the set will also appear accordingly.)


SKU: Fill this in if you manage SKU numbers for your products (optional)


Allow the shopper to buy more than one set?
Toggle this on to Yes if you do want customers to buy multiple quantities for the set.
Toggle this off to No if you just want to sell 1 of this set per customer.

Does the customer get to choose a few products from the set?
This is only applicable should you allow the customer to choose products within the set.
If your set is fixed and the customer gets all items listed above, choose the 'No' option.
If you wish to allow the customer to choose a few, for example, 2 out of 10 available products, select Yes and enter 2 as the limit.

Once you have filled in the details above, click on 'Save set' to save your details.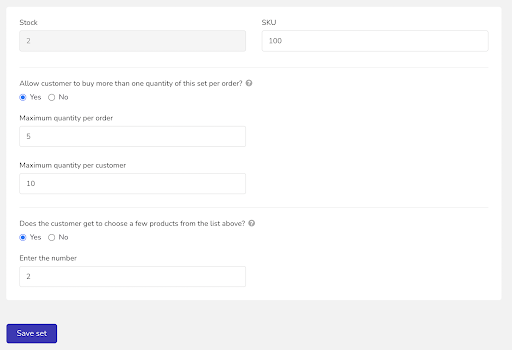 9. Once saved, you will find your added set listed under the 'Manage sets' page.