A2P Messaging Options in the U.S. and Canada
If your business plans to send SMS/MMS text messages to consumers in the United States or Canada, it's helpful to know about the various A2P (Application to Person) messaging options:
10DLC, also known as 'ten digit long code', allows businesses to send messages from a local geographic phone number and is the standard that U.S. telecom carriers have put in place to ensure that SMS traffic to US end-users through long code phone numbers is verified and consensual. Campaigns must follow specific requirements or they will be rejected by the carriers. This is mandated by all the carrier networks to protect consumers from SPAM and ensure credibility.
→ Read our

10DLC Quick Start Guide

for more information.


Toll-Free Numbers (TFN), enables entities to implement fast and reliable nationwide message delivery. Toll-Free numbers are supported in the U.S., Canada, and Puerto Rico, and – after verification – have no volume restrictions, supporting up to 30 messages per second. Quick activation and fast delivery of SMS and MMS in the U.S. and Canada, as well as a single per-message price for both incoming and outgoing traffic, makes this an attractive messaging option.


Dedicated Short Codes allow you to implement super-fast, reliable nationwide A2P message delivery over 5 or 6 digit numeric codes in the U.S. and Canada. U.S. Short Code coverage is supported on the multiple wireless carrier networks across the U.S. with high-speed delivery of interactive SMS and MMS campaigns with delivery confirmation receipts.  
Vonage offers a full suite of A2P SMS/MMS messaging options to best suit your needs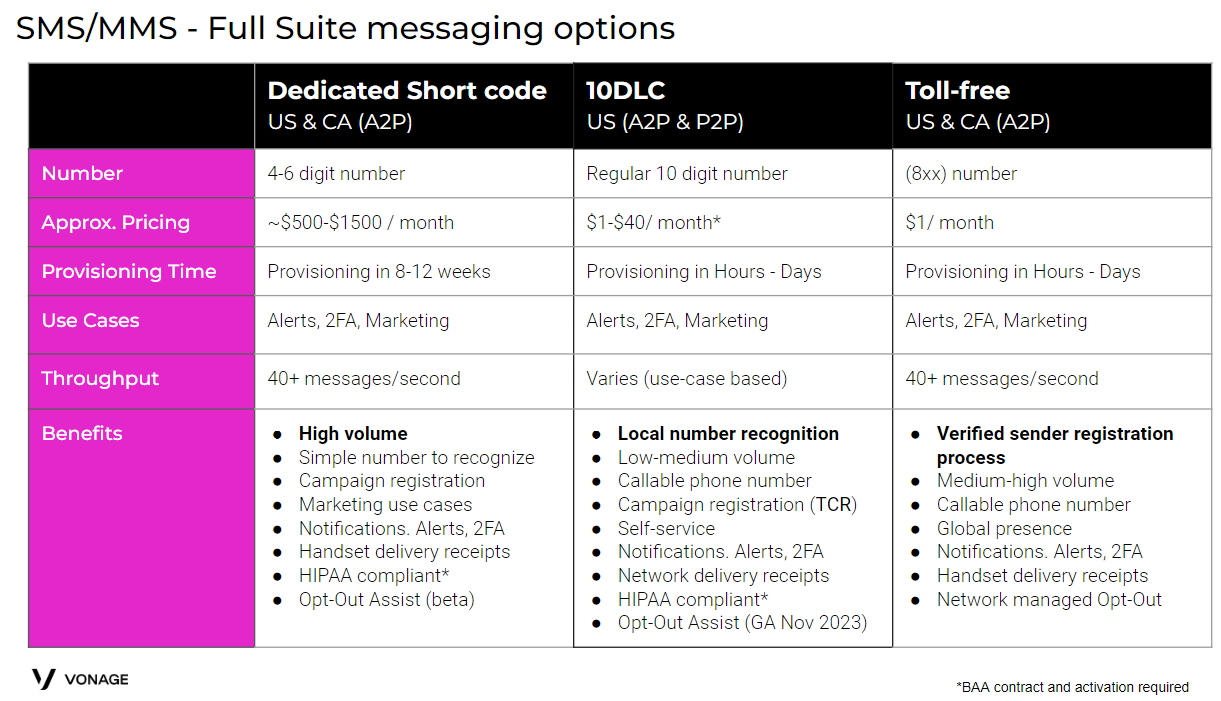 We hope this article has been helpful to illustrate the different messaging options, however if you still have questions, simply reach out to our API experts or your Vonage Account Manager for assistance.