Bot Builder - How to Set a Bot on Autostart?
Objective
Setting your Bot on autostart.
Applies To
Procedure
You can set only a single bot for auto-start, once you have set a bot as 'auto start', then it will get executed by default in case of customer types anything which is not a specific trigger or keyword and also the customer should not be in any bot journey.

In the column named AUTO START BOT, you will find the option to set your bot as auto start, to enable auto-start, click on Set as auto start.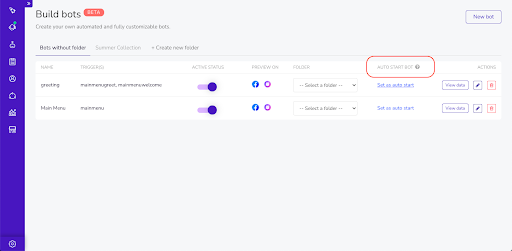 Once you click on Set as auto start, you will see a pop-up alert, now click on Enable.

Now your bot has been set to auto-start. If you wish to change auto-start with another bot simply click on the Set as auto Start. (Note: Once enabled you would need a default bot for auto-start)