How does participant-based video pricing work?
Vonage Video API Pricing Page
This article discusses pricing for core Video API usage, with expanded details useful for existing Vonage users. To get started, see our standard pricing page for a general overview, for pricing of additional services, such as recording, streaming, and SIP, and for pricing of subscription-based advanced features. The pricing for all these additional features is the same as previously.
Vonage Video API Pricing 2021 Update
Vonage has added a simplified participant-based usage pricing model for the Video API in 2021. As of July 2021, this is available for all users, either by working with your account manager for users with custom contracts, or automated through the Account Portal for our self-service users (see below).
If your account was created prior to this change and utilizes the stream-subscribed minute pricing model, your billing will not change unless you explicitly change the pricing model for your account. A Video API account can only use one pricing model. The new model is intended to make multiparty video use-cases easier, including NxN meetings and few-to-many (broadcast) webinars and event use-cases. If you predominantly have one-to-one or one-to-many (broadcast) use-cases, or negotiated pricing, then you will find that both models are similar. Nonetheless, the participant-based model can be used for all use-cases, including one-to-one, and so users changing to the participant model do not need to keep the previous stream-subscribed model.
Participant Minute Model
The participant minute pricing model bills according to the number of participants in the session, which is useful for larger multiparty sessions. Technically, a participant is a connection through the API, which typically corresponds to a single person or device. But a person can connect multiple times from the same or different devices, in which case they will be multiple participants.
The participant minute Video API pricing model offers:
Price of $0.00395 per participant, per minute.
This simple usage-based pricing is based on the number of participants in a video session, dynamically calculated each minute.
Plans start at $9.99 /month with 2,000 participant minutes included in all plans.
There are no bandwidth limitations, providing flexibility in designing quality video experiences.
This is for any number of participants, including multiparty and broadcast, up to 15,000 participants (see our expanded sessions sizes described here) and 25 active publishers. See below or contact us for further use-cases.
This covers usage of core features, including video, voice, screen-sharing, signaling and chat, TURN relay, developer portal, management tools, reporting, and use of all SDKs.
Recording, SIP interconnect, and streaming, as well as subscription-based advanced features, are additional, as shown on our main pricing page.
See terms-of-use for taxes and conditions of use.
It is unusual to have use-cases above 25 simultaneously published video streams, with any number of watching participants up to the session maximum of 15,000 participants. Developers with very large meeting or webinar-style use-cases are likely to control the number of active publishers in order to protect client device performance. The Video API supports larger numbers of video-stream publishers up to a maximum of 55 publishers - but the participant minute charge is higher above 25 active publishers.
With 26-35 active publishers, the price is $0.018 per participant-minute for those minutes, and with 36 or more active publishers, the price is $0.022 per participant-minute for those minutes. All billing is based on minute-by-minute session activity, and so is completely dynamic as your sessions get larger and smaller over time. These higher prices only come into effect during the period where there are these larger numbers of publishers (not participants).
We provide an automatic 5% discount each month for additional participant minutes within that month above 100,000 participant minutes (independently aggregated at each price point). This is automatically reflected in your billing.
Previous Stream-subscribed model
Under the previous stream-subscribed minute pricing model, sessions were billed according to the number of video streams being subscribed to within a session. The Video API is very flexible in supporting many different topologies from one-to-one to meeting-style to webinar-style to large scale broadcasts. However, the stream-subscribed model became complex for multiparty sessions where there are many streams involving multiple publishers, and hence we introduced the participant model.
Moving to Participant Minute Billing
The stream-subscribed minute pricing model remains available and current users do not need to make any immediate change.
Users should note that in the participant model, a participant publishing a video stream will be billed as a participant even if there are no other participants subscribing to that stream. This is different from the subscriber model and users may want to consider adjusting how this situation is coded to avoid this "no one else in the session" case from causing extra billing.
If you are a user with a managed account with a contracted plan, contact your account manager to discuss making this pricing change.
If you are a self-service user on our Standard plan, you can change your billing model through the Video API Account Portal. The Billing section can be found on the left side of the page. There you can see your recent usage both in stream-subscribed minutes and participant minutes (regardless of which of these plans you are currently using). Use this data and the information in this article to determine if participant minute billing is right for you. If so, there is an Upgrade to Participant Minute Pricing (PM) link in the Billing Settings section on the Billings page. This change can only be made once in the portal. For self-service customers (only) this process looks like this: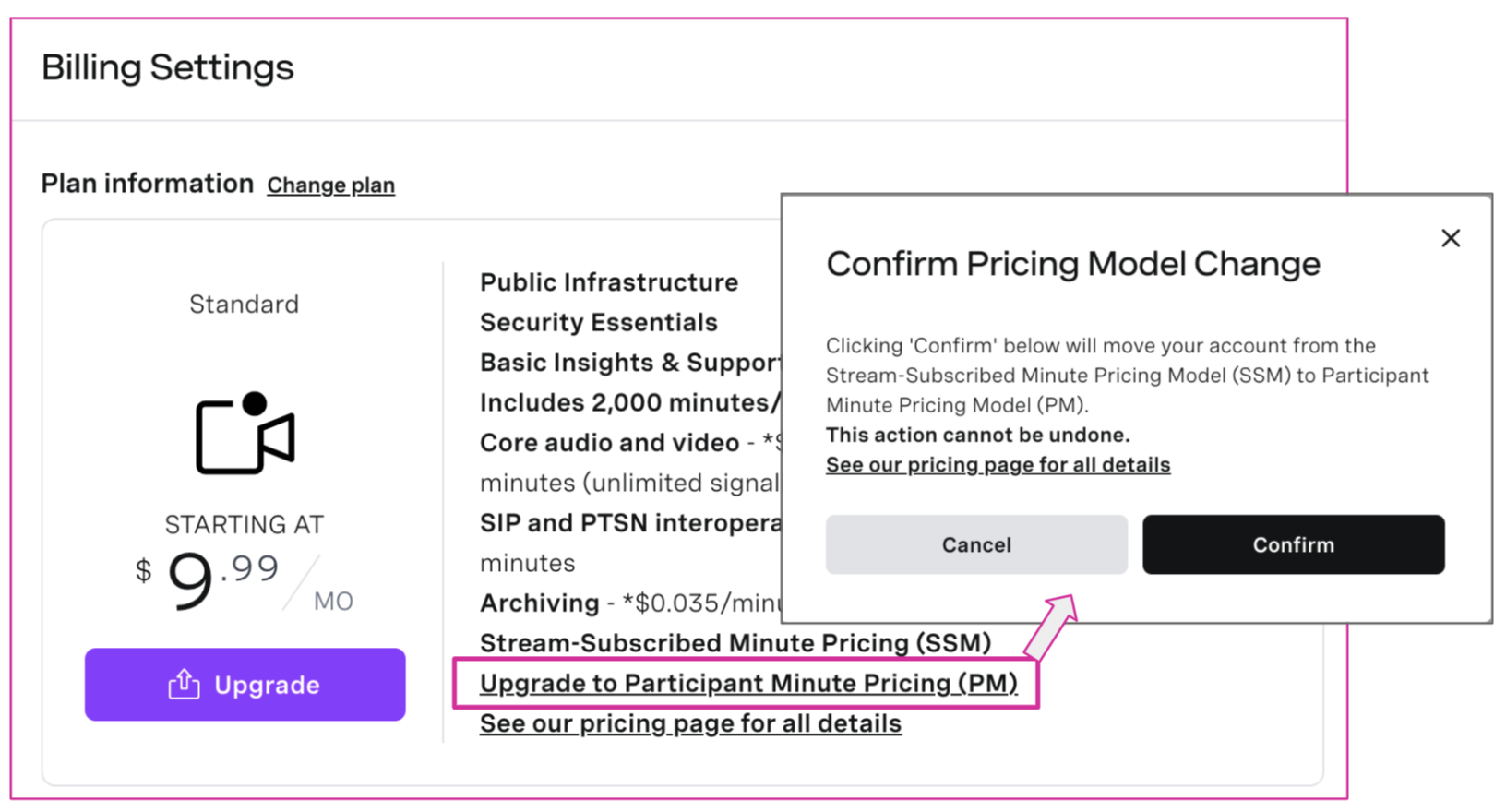 This link is not present for managed customers.
Contact Us
Contact us to discuss more complex use-cases, to learn how our enterprise services can accelerate the time-to-market of your projects, or if you are planning for high video usage.
The rest of the pricing for additional and advanced features is on our pricing page. These were not covered in this article about core usage.